She Nerd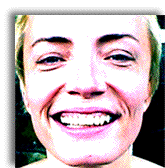 Having walked into The Digital Village over 2 years ago, taking full responsibility for the death of multimedia, I'm pleased to report that things are going very well indeed.
I managed to survive working on Starship Titanic, although I am still contemplating charging Robbie for plastic surgery, as I seem to have aged so much...
I'm currently involved in the creation of Hitch Hiker's Guide in its online incarnation with the wonderful Web Creatures.
My poorly populated web site can be found here.